Hey folks!
Zubzub are very pleased to announce the release of our third album, "The Powers that Beep", on techno-legends Eat Static's label, Mesmobeat - ready to drop on 25th July, just after our performance at Glade (Liquid stage - Friday 9pm). Some of you may remember us playing at the massive Twisted party at Brixton Academy, or from the many festivals we've played, or maybe you've never heard of us at all - no matter, do read on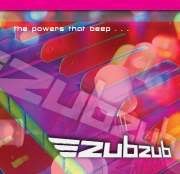 Written and produced by Zia (ex-Ozric Tentacles) and Mindflux (Dream Machine/Trancient Dreams) and featuring Jumping Jon (ex-Ozrics) and Alex Pym (ex-Damidge/Dream Machine), this album finds the group moving up a gear, both in terms of covering a breadth of new musical ground and being a more focused dancefloor-filler than the previous 2 outings. The new album is also a more band-oriented production, with the current line-up having gelled over the last two-years, through extensive performance on the live circuit - performances that have drawn rave reviews and a solid and cosmopolitan fanbase. "The Powers That Beep" is finding a wide-audience, as it twists and turns its way through a myriad electronica and dance styles, but with the continuity of the distinctive Zubzub vibe and sound weaving it together in to a cohesive whole.
Its available for pre-order now from all quality online retailers - and, if you want a sneak preview of the title track, just visit our profile at http://www.reverbnation.com/zubzub We hope you enjoy it! (There's also some tunes to listen to at Reverbnation and free downloads available if you sign up as a fan!)
And, if you want to hear samples of what the rest of the tunes are like (its quite a diverse range!) then Goastore have them up :D
We're at festivals all around the UK all Summer, playing it out live, so hope to see some of you in the fields
Have fun!