PARTY PROACTIVE PRESENTS THE 5TH BIRTHDAY
SATURDAY 2ND MAY, AREA, VAUXHALL, LONDON
9PM THE END!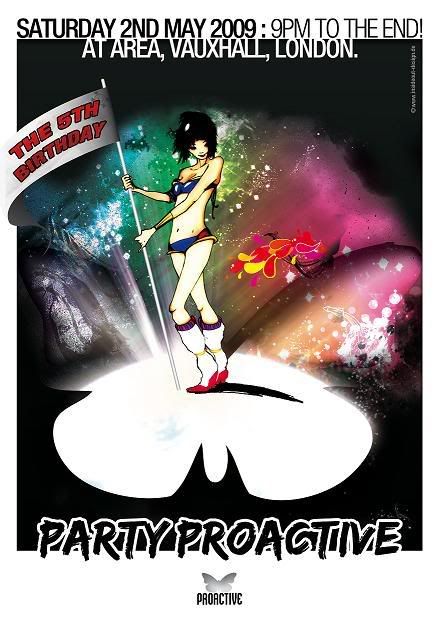 The above may make you sit up and wonder, what the bluebell has been going on at PP HQ all this time?! What's happened to PP since their last sell-out event at the SeOne - the spectacular 4th Birthday Party?!?
For those who've been following our adventures you'll know we were within a hare's breath of launching something suitably stupendous on you last year, but at the last squeak our Vision was whipped away from us (carried off by a band of salacious imps and, from all accounts, had a thoroughly nice time).
Last year was one of those crazy, exciting, ride-that-pony kind of a year with loads of projects on the go. But, you know us – it's all about the Party – and we're never satisfied until we're happy we can do things As They Should Be Done.
So…….
We are ready, fully charged and ready to unleash one of those rare and unmissable Party Proactive sessions. And being our 5th birthday (our baby is growing so fast!) we wanted to do something truly special, which is why we've chosen to do a party on one of the biggest dates in the clubbing calendar – Saturday of the May Day Bank Holiday Weekend. Forget about partying like it's 1999 – this is 2 May 2009, Baby! And man, we've missed you x
After much debating, looking at venues and imaging what the party would be like with us all dancing our pants off in there, we've decided upon a club we know is going to deliver a top quality intimate atmosphere, superb sound and lighting, 3 proper rooms, chill out space, relaxed outdoor area, courteous and discreet security and enough space to fit 1500 crazy clubbers!!
Full details of the party will be revealed at a later date - Who will be joining the Proactive residents? What country will they come from? What style of music will they play? Will the clarion call of 'booooooooowaaaaaiiii' ever be heard again? And just how deep is your love??? Keep your eyes peeled for the next Party Proactive newsletter to find out more!
This will be the first Party Proactive event since March 2008 so we expect our advance tickets to sell-out in record time. As a special birthday gift from us to you we have for sale a very limited 100 tickets @ £8!
Once these sell out the price will go up.
Buy now, grab a birthday bargain and don't miss out on what is set to be another legendary Party Proactive experience.
LINK TO EFLYER:
http://www.bugbittenpromotions.com/proactive/fabric-aug08/proactive-aug08.html
Ticket Outlets
Ticketweb: www.ticketweb.co.uk / 08700600100
Viewtickets: www.viewtickets.co.uk
Moreonthedoor: www.moreonthedoor.co.uk
Access All Areas: www.accessallareas.org
Clubtickets: www.clubtickets.co.uk