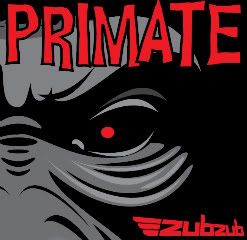 Zubzub are delighted to announce the new album, "Primate" is finished and available for pre-order exclusively at zubzub.co.uk
You can hear samples from the album on the order page and, if you order quickly enough, there is a strctly Limited Edition of the CD with bonus FREE EP….make sure you get yours!
In case you don't know us yet, Zubzub is one of the UK's leading live, psychedelic dance groups and is the creation of Zia Geelani, long-time former bass player with psychedelic legends, the Ozric Tentacles. The band also features former Ozrics front-man and flautist, Jumpin' Jon Egan, Mark "Mindflux" Fletcher and Alex Pym.
Zubzub have been blazing a colourful trail through the psychedelic scene for almost ten years now and have released four quality, highly varied and eclectic albums and performed hundreds of gigs, all to rave reviews and stomping audiences, inlcuding multiple performances at Glastonbury Festival and Glade and shows throughout Europe.
Hope you enjoy it - Zubzub….keeping it ethereal B)