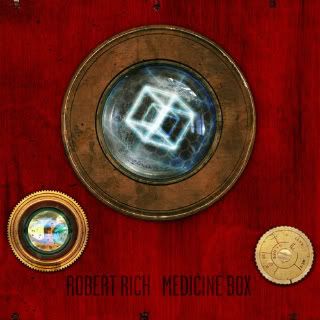 Robert Rich - Medicine Box ( Nov. 2011 )
http://robertrich.com/discography/album/?album_id=46
http://www.cdbaby.com/cd/robertrich27
Listen to 3 tracks from the album - Kaaruwana, Macula and Callyx, first 3 tracks on the player: http://robertrich.com/player/

Label: Soundscape
Media format: CD, 6-panel Digipak
Catalog No.: SP022
Genre: Ambient / Tribal / World Music
Track List:
1. Alba 4:16
2. Kaaruwana 6:18
3. Macula 6:27
4. Cornea 5:24
5. Crepescule 6:39
6. Pollen 7:33
7. Callyx 5:58
8. Salamander Quay 7:37
9. Helios 10:42

Press Release:
Ecstatic, shamanic, surreal, spiritual: Medicine Box may be Rich's most dynamic album yet, an adept blending of technology with the ancient. Cheri Chuang's wordless crystalline voice graces three songs, with traces of Persian inflection. Deep basslines hint at dub, while analog synth skitters and chuffs the outlines of a rhythmic grid, propelled forward by pulsing north African drums. Sustaining guitars bring a psychedelic edge. Cello and reeds echo plaintively in the distance. Rich's sparse piano adds droplets of modal jazz to this dark tea.
Haroun Serang: guitar on 1
Cheri Chuang: voice on 2,6,9
Edo Castro: bass on 3,6,9
Hans Christian: cello on 3,5,7,9
Slim Heilpern: chromatic harmonica on 4
Robert Rich: synths & MOTM, flutes, steel guitars, piano, bass, percussion
Recorded, mixed and mastered by Robert Rich at Soundscape, 2011.
Microphones by ADK, Blue, Josephson, Royer.
Custom Sustainiac lap steel guitar by Todd Plummer.
Software by Camel Audio, Izotope, Flux, Audio Damage, Galbanum.
Thanks to Jeff Taylor-Cross/Apple, Paul Schreiber/MOTM, Dan Brown/AudioSage, Chuck Oken/Noise Bug, +Dixie.
Edo Castro appears courtesy of Passion Star Records.
Cover art and design by John Bergin
Highly recommended !
Enjoy